In this article, I will offer my own rating of arbitrage finders. I will also talk about:
The Pros and Cons of Free and Paid Arbitrage Software — Which One to Use? Why do you need arb finders? What are pre-match and live arbs? What is value and middle betting? What are odds checkers? And how to benefit from all of the above?
Then I will go further and try to figure out how you can use arbitrage in cryptocurrency trading or cybersports (Dota, for example).
And can you develop your own arbitrage finder?
Site
Price per month
Speed
Quality
user-friendly
Bookies
Sports
Prematch
arbs that occur before the match. Their advantage is
Read more…
Live
Occur during a match. Is much more difficult, but it gives such advantages like
Read more…
Value bet
Events with coefficients rated higher than the real ones
Read more…
Middles
Double win, or getting of a part of your bet refunded in case of loss
Read more…
Odds compare
Negative surebet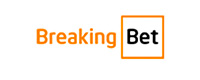 $ 12,99
38
9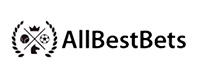 € 424,99
100
27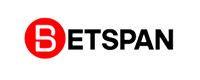 $ 75,99
90
40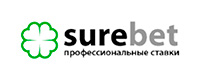 € 27,9
74
33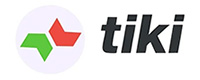 $ 80
37
14
Top Arbitrage Betting Software
This is my own rating based on my own perception of the matter. If you don't agree with it, you are welcome to say so in the comments. But don't forget to provide your arguments.
1. BreakingBet
Score: 4.7 out of 5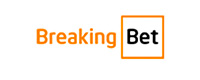 Launched in 2016, the ambitious arb finder has already become popular due to its 'affordable' price. Surprisingly, despite the low price, the quality of the software is quite good and comparable with that of top arb finders with a price tag over $100.
The finder supports 41 bookmakers and covers 10 sports providing information on arbs for $12.99 per month. I suppose, the price won't last long though; chances are, at the moment you'll be reading this, it will change.
My positive customer service experience has only made me more loyal to the software. I guess, in this respect, its only competitor is 3Bet. Breaking Bet is great for newbies who are not ready to invest much money in arb finders with bigger names.
And, since the software finds unique arbs, it is suitable for pros, too, — as an addition to another, pricier option.
To read about the interface and how I checked arbs, go to Breaking Bet: Overview, Reviews, Quality Check.
2. RebelBetting
Score: 4.7 out of 5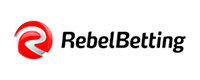 The software originated in 2007 in Sweden under the name ClaroBet and was later renamed into RebelBetting.
It is one of the best arb finders available which is proved by a big number of subscribers despite the expensive subscription. A monthly plan will cost you 129 Euro.
The service scans 90 bookies, including betting exchanges, and covers 10 sports. It also operates with minimal errors.
3. BetBurger
Score: 4.6 out of 5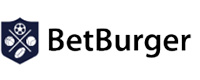 Developed by a Ukrainian team, the arbitrage finder was launched in 2012.
The software works quite well and is just a little inferior to the best European analogues.
For non-members, the arbs are limited to 1% and have a huge 900-sec delay on pre-match arbs and 60-sec one on live ones, so, chances are, you won't want to use the free version except for introductory purposes.
A month of pre-match and live will cost you 424.99 Euro. For this money, the service will scan 100 bookies and 27 sports. Few competitors can offer a choice this big.
4. OddsPortal
Score: 4.4 out of 5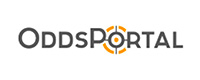 Launched in 2008, Odds Portal belongs to an offshore company registered in Malta.
It analyzes information on 23 sports from 80 bookmakers.
Although the service is free, it offers a large amount of unique content and uses a good algorithm.
OddsPortal does more than you can expect. Pre-match and live arbs, odds comparison, dropping odds, blocked matches, the best handicaps, user predictions — these are only some of the website's features.
On the minus side, it is rather slow and is not suitable for professional bettors.
To learn about OddsPortal's mirror websites, read user reviews, and get more details on the website's features, go to the full review: Oddsportal: Functionality Overview, Mirror Websites, Analogues.
5. Betspan
Score: 4 out of 5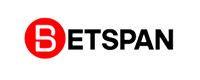 Launched in 2015, Betspan has already developed its own audience, while its partners include the world's biggest bookmakers, such as Pinnacle.
The software boasts a large search scope, but the scanning quality is mediocre — the high rating is obviously explained by the developers' attempt to create a full-fledged cappers' community on the website.
Betspan is one of few arb finders that offer personal training (on a paid basis).
The service analyzes quite a large amount of information — on 90 bookmakers and 40 sports — for a monthly fee of $75.99.
The free version shows arbs up to 1%.
6. Surebet
Score: 3.7 out of 5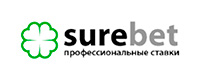 Surebet is an oldie in the world of arbitrage software — it appeared in 2009. The service boasts a huge selection of bookies and I could even forgive it the absence of live arbs. However, the weak searching algorithm that often displays false arbs and the absence of the possibility to quickly access bookmakers' websites prevent it from topping my list.
Surebet analyzes info on 33 sports from 74 bookmakers for 27.9 Euro per month.
It also displays arbs up to 1% for free even if you are not subscribed to the service.
7. OddStorm
Score: 3.1 out of 5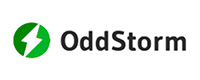 OddStorm was launched in the distant 2006, but, despite its rather good quality, the software has not gained great popularity. Why so?
Specializing solely in football, the arb finder uses a reliable algorithm and demonstrates a good searching quality. However, OddStorm has a major downside — the sky-high subscription price. A monthly plan will cost you 295 Euro. The price is even higher than that of RebelBetting although the latter works with a bigger number of bookies (90 vs. 61).
To non-subscribers, the service displays arbs up to 1.5%. It also has a handy app OddStorm Navigation — offered for an additional fee.
8. The Forks
Score: 2.7 out of 5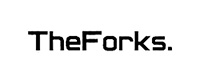 The Forks is quite recent software — it appeared in 2017.
The service boasts good scanning speed and decent, compared to its competitors, content.
Its big disadvantage though is limited functionality — the Forks displays live arbs only. Another issue is the buggy software that triggers a lot of errors.
The Forks supports 36 bookmakers and 8 sports and costs $121 per month.
9. PositiveBet
Score: 2.5 out of 5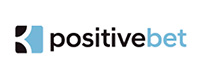 PositiveBet was launched in 2013 and, as I already mentioned, is it basically the same as The Forks (or vice versa). Both offer similar content and have similar bugs. The only difference is that when you use The Forks, you don't need PositiveBet, while PositiveBet without The Forks is not of much value.
The service works solely with live arbs and doesn't show pre-match ones. Considering that almost all other arb finders offer both pre-match and live surebets, this is quite a downside.
PositiveBet scans 36 bookmakers and covers 10 sports. The monthly fee is $121 — the same as (unsurprisingly) The Forks has.
To do PositiveBet justice, I should add that you can also use the software separately from The Forks. In this case, the monthly subscription plan will cost you $89, so you'll be able to save some bucks. Arbs up to 1% are shown for free.
10. 3Bet
Score: 2.1 out of 5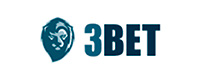 3Bet made its appearance in 2017 and has already become pretty popular due to its 'budget' prices. The service analyzes 16 bookies in 7 sports for 1,490 rubles a month (about $25).
The support team is very friendly and responsive, and the general impression is that the people behind the software are truly passionate about what they do.
But, unfortunately, judging by the reviews and my own analysis of the service, the quality of the arbs leaves much to be desired.
To summarize, 3Bet is a young arb finder whose only advantages are the low price and the enthusiasm of its developers. Alas, enthusiasm alone is not enough.
11. ArbMate
Score: 2 out of 5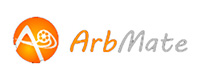 ArbMate is a new service created in 2018.
It analyzes 52 bookmakers and, at first glance, seems to be cheap. But, once you buy the subscription plan, you will find that only three of the bookies are available to you, and you have to pay extra to see information from the rest.
ArbMate has a good concept but it is early days and the software is still raw — hence, the abundance of false arbs.
12. BMBets
Score: 1.3 out of 5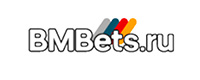 Created back in 2010, BMBets exists to this day.
The service gathers information on 10 sports from 76 bookmakers, and it does is for absolutely free.
Apart from free arbs, BMBets offers extra features, such as odds comparison, value bets, bonuses, etc. But, no matter how great this sounds, the software's real worth amounts to an absolute zero in whatever scale you choose to use.
Why it is so, what is dev.bmbets, and how it can be useful — read about it all in the full review: BMBets Arbitrage Service: Overview, Reviews, Free Features, User Experience.
13. BetBrain
Score: 0.8 out of 5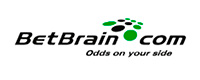 The software made its appearance in the far 2000.
In fact, BetBrain is just a shortened version of the BetOnValue, so it would be incorrect to regard it as a separate product. BetBrain's main purpose is to attract attention to itself by offering great deals and then redirect this attention to its main sponsor — BetOnValue.
The software scans 25 bookies and covers 37 sports, but it only shows arbs up to 5% and with a 20-minute delay. While you can put up with the 5%, the 20-minute delay makes the service quite useless for professional bettors. So, it will be safe to say that the only purpose the scanner serves is marketing, which, obviously, is the plan.
14. Tiki
Score: 0.5 out of 5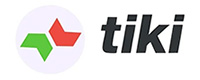 Judging by the massive online advertising campaign, Tiki is a quite big in the world of arbing software. Launched in 2016 as BigBet Pro, it was later rebranded into Tiki.
The service scans 38 bookmakers in 14 sports for absolutely free.
Apart from the arb finder itself, you can also benefit from the browser plugin Tiki Helper that makes the betting process even easier.
Unlike BigBet Pro, Tiki doesn't live off the arb finder alone, but also offers software for automated trading.

This rating applies to the free service only. The paid version, which is positioned as a robot for automated arbing, is way too expensive — I don't have a big desire to give my 1,500 dollars to Tiki Group.
Another way
You can compare the features, price and quality of arbitrage software using these filters: Top Rated surebet finder and odds comparison websites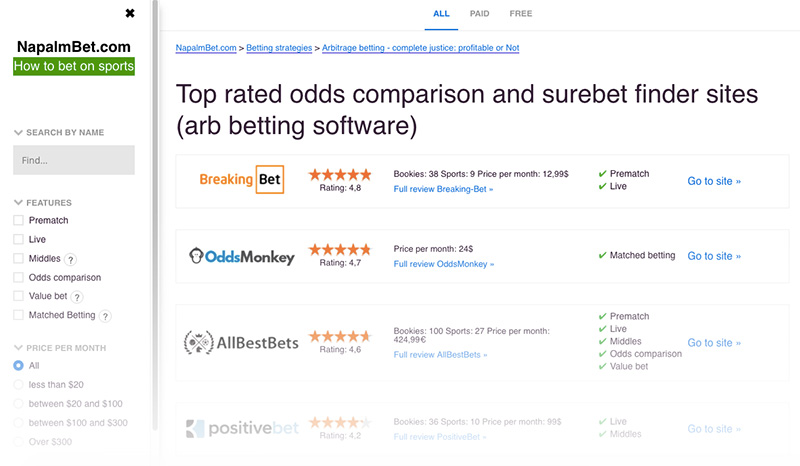 Not on the List
In this section, I will give a short overview of arbitrage software that, for this or that reason, did not make it to our list.
AllBestBets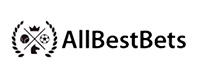 AllBestBets is essentially the same as BetBurger except that it is developed for the Russian market. Even the prices are now the same.
Forted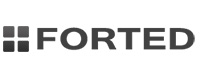 Forted arb finder is shrouded in mystery. For some reason, you can't use it without a special invitation, and it's not so obvious how to get one in the first place. Some say that Forted is the rebranded name for BetLinker aka BetRinger.
The software is installed as a Windows app. Judging by internet reviews, it has a very friendly interface.
You can see various fishy people advertising the service at internet forums with the prices ranging from $100 to $800.
The reviews are always positive, but you never know who writes them, and there is no way to see the product before you buy it.
I don't recommend using the software unless you are totally sure of what you are doing.
The Pros and Cons of Free and Paid Arbitrage Software. How to Choose the Right One
How much do arb finders cost? Should you invest in them? Are there any that offer free arbs with more than 1%?
Many arb finders offer a free trial with arbs up to 1%, but there is a downside to it (more on that below).
Why would I need to turn to paid software to get arbs up to 1% when I can easily find arbs with a better profitability with free arb finders?
Yes, you read it right. As odd as it may seem, alongside expensive arbitrage software like BetBurger and RebelBetting, there are free online arb finders offering juicy arbs for free.
Some of the services that offer free arbs over 1% are included in our rating (see above).
So what's wrong with free arbitrage services and free arbs from paid services? Let's dive right into it.
Free arbitrage betting software
In our opinion this kind of arbitrage software is of the most interest for newbies, which makes sense, because you might not want to invest your money into something you don't have a good grasp of yet.
Is it worth trying though? There is more info on this matter further in this article.
Odds comparison websites
First things you find online are different bookmakers odds comparison sites, where you can choose an event and compare betting odds offered by all bookies. For example, at Oddsportal.com (rated above)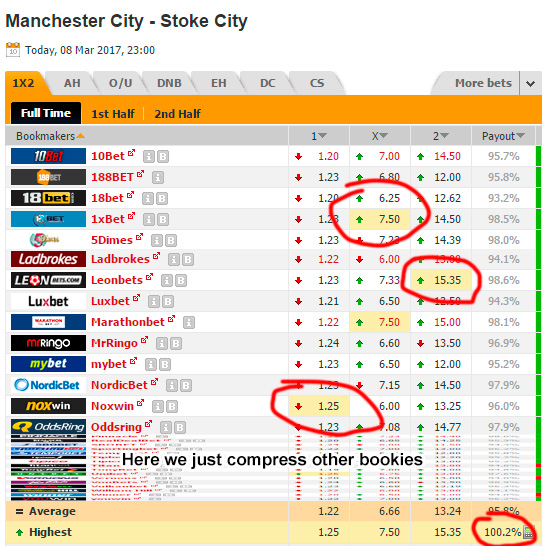 If you are lucky you'll be able to find arbitrage opportunity by sorting out the odds by size.
Wait….
We actually have a section with listed arbs below.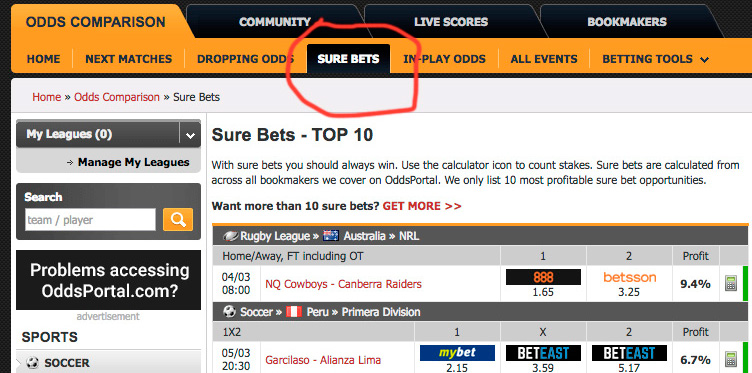 You might think it's too easy to be true, and you are actually right about it! There is more info on it further in this article.
Free surebet finders
There are a lot of similar free surebet finder websites, these are the most famous among them: BetBrain, Oddschecker, Mysurebets, Bmbets. This is hardly a full list of betting sites comparison (many of them are featured on the list above). For example, here's an arb at Bmbets

Free services in paid arb finder
Most sports arbitrage software offer part of their services for free.
For example, Breaking-bet up can give free subscription with full access for activity (I will expand on this issue below), Rebelbetting shows arbitrage opportunities up to 0.6% for free, whereas Betburger demonstrate the possible arbs up to 1% free of charge.

By the way if you aim for the betting using the Matched betting system, then Oddsmonkey is what you need. The website compares free bets and other offers from bookmakers. You will be able to see all such opportunities for free-bet or cash-back options using a free subscription. There is also a calculator that help calculating the winning amount taking into account the return of bonuses.

So, if it's all that awesome why would anyone would want to pay someone for an expy subscription?
Rain on parade
There's more to it than that, it's not all that simple. Free arbs have some flaws which can reduce your efforts to earn money to zero.
We have to admit that such free surebets are perfect for training purposes. Just don't use them in your working accounts. We will tell you why further in this article.
So, what's wrong with them?
Small percent. We already noted that most paid arb finders offer free arbs less than 1%. Why is it bad? If you are a professional bettor you would hardly bet more than 10% of your deposit at a certain bookie. This means that you will have to work several times as much to achieve that same level rather than you'd used the arbs over 1%. Is your time worth the saved money?
Delays. Almost all free arbs of paid surebet scanners are displayed with a time lag. It makes sense, because their first priority is their clients who deposit money into their systems. So, when you get your surebet displayed for you it will be already rotten bad. In most cases this means that the arb will get decreased or disappear by the time you are ready to bet.
Seldom updates, bookies parcing. Most free sure bets finders don't have enough money and equipment to support fast non-stop updates of sure bet odds at all bookmakers offices, which leads to several hours time lags between updates. This results in the next flaw.
Less arbs. Yes, there much less arbs offered here.
You get visible for bookies. The very fact that an arb has gone public leads to overbetting by lots of players, which cannot pass undetected by the bookies. This is the reason you should never reveal good accounts on such surebets.
The main question about free arbitrage software is this — why do they do it for free, how do they earn money on it?
Actually it's pretty easy, don't pity them – there is enough dough for them to live nice. They live off affiliated links leading to bookmakers websites (yes, the links you click on to check bookmakers odds), i.e. the offices pay them for attracting clients.
This results in the following conclusion: such online arbitrage tools are hot for the bookies – it's their way to attract money into their systems (especially, since you can show only the arbs you don't participate in as a donor, see more information on it in the article about arbitrage)
Paid surebet finders
Many of paid arb finders are presented above. They also come with various interesting features that can help you pick the right one for you.
| Arbing software | Sports types | Bookmakers amount | Price per month (for the limitless subscription) |
| --- | --- | --- | --- |
| Breaking-bet | 9 | 38 | $12,99 (Prematch+Live) |
| RebelBetting | 10 | 90 | 129 Euro |
| AllBestBets(BetBurger) | 27 | 100 | 424,99 Euro (Prematch+Live Professional) |
| Oddstorm | 1 | 61 | 295 Euro |
| A-bets | 4 | 26 | $239 (Expert) |
Free Trials Offered by Paid Finders
While everything is more or less clear with free arb finders, with paid ones, you are actually buying 'a pig in a poke'. This is where a free trial comes in handy.
However, I have never come across arbitrage software with a trial period. And this is only logical, as, even if to sign up for the service, you will have to provide your phone number or identity card, chances are, a good arb will cover all your expenses on buying a new phone or creating multiple accounts. And people behind the arbing software want to earn money, too. By the way, down below, I will talk about how to create an arb finder on your own.
How to Get Arbs from a Paid Service Without Subscription
As promised, I will now share one more hack with you. I'm not sure if it will work at all times, but it definitely worked for me once.
I bought a 7-day subscription at Breaking Bet, and, after I'd used it, I got a message from the service offering a promo code to renew my subscription. As a way of thanking them, I decided to provide some feedback on the service and suggested that they should add the 'distribution of profits' feature to their calculator: My proposition on the website.
The feature allows you to increase profits from more probable outcomes — I talked about it here: https://napalmbet.com/arbitrage-betting.html#Arbitrage_betting_formula_calculations_with_explanations (see the end of the paragraph with formula calculations).
Surprisingly, the support team showed genuine interest in my visualization of the feature on their website, and, after we'd talked it through, offered me a 3-month free subscription for my initiative.
UPD: The feature was added to the website. I've also read that you can get a free subscription if you report an error to them, but I haven't tried this one yet. Anyway, the guys seem to be quite open to dialogue, so, I suppose, you can always count on a bonus if you come up with some useful feedback.
What Features Do Arbitrage Finders Have?
Now that you already know what betting arbs are, it's time to find out how arb finders can come in handy here.
PreMatch Arbs
Prematch (i.e., pre-game, pre-live) arbs are arbs that occur before the match. Their advantage is the relatively long lifetime that allows you to double check all the odds and events and place bets on all outcomes not bothering about one of them disappearing by the time your first bet is accepted.
On the minus side, pre-match arbing makes it easier for bookmakers to expose you as an arber, as, during its long lifetime, pre-match arbs can attract a suspiciously large number of bettors.
Naturally, if we are talking about Pinnacle, Betfair, or other bookies that are loyal to arbers, there is nothing to worry about. However, other bookies can cut your limits.
Live Arbs
Live arbs are the opposite to pre-match arbs as they appear during a match. Betting on live arbs is much more difficult because their lifetime is limited to minutes, if not seconds.
While you're placing a bet on one outcome, the other one may disappear. Arb finders may not have the time to process the changing odds, or the initiator of the arb (i.e., the slow bookie) may finally react to the changing situation.
However, if you learn to place bets on both outcomes in time, it will be a lot harder to spot your arbing activity, especially if you alternate arbs with regular bets.
The upsides of live arbing include good bankroll turnover, while with pre-match arbing, your money gets frozen — you can't use it until after the event, which sometimes can take up to several days.
Odds Comparison
Unlike with regular prematch and live arbing, with odds comparison you don't get a ready-made arb. Instead, you monitor the odds from various bookies and analyze their movement in the betting line in real time.
Let's take OddsPortal, for instance: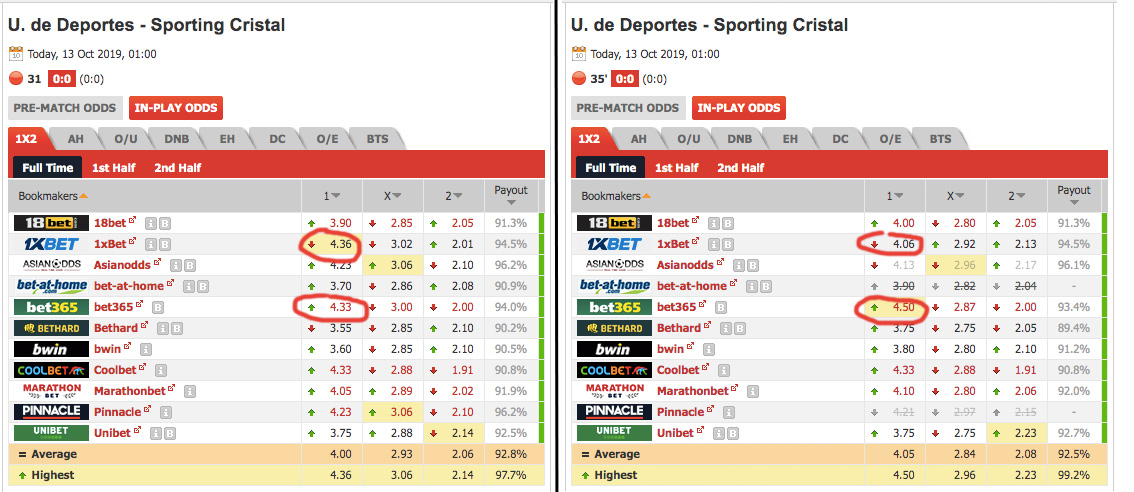 The 31st and 35th minutes of the match
It is curious that these 5 minutes of the match are interpreted differently by the analysts of 1xBET and BET365:
1xBET thinks that Team 1 is more likely to win (the odds 4.36 dropped to 4.06, i.e., 22.9% against 24.6%)
At the same time, BET365 sees the win of Team 1 as less probable (the odds 4.33 went up to 4.5, i.e., 23.1% against 22.2%).
I guess the reason for this was that, in those five minutes, 1XBET got too many bets on the win of Team 1 and, to balance the situation, had to decrease the odds (I've covered this topic here: How Are Arbs Formed in Sports Betting?).
Obviously, BET365 had the exact opposite situation.
How can you benefit from this scenario?
First of all, you can spot an arb here. Remember how we searched for arbs with an odds checker?
But, most importantly, we can see a tendency in the odds movement for different bookmakers and prepare for an arb like this one: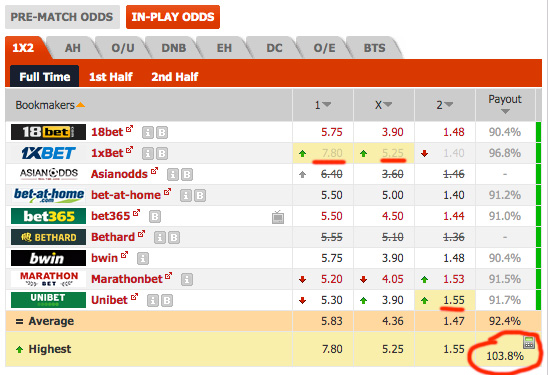 To make sure it's really an arb, you can use the arb calculator.
Value Betting
Value betting allows you to find undervalued events and make money on them. Since I already covered this topic in detail here (Search Results Web results Value betting. Why 98% Lose at Bookmakers' Office?), I won't repeat myself again.
Betting the Middle
Middling gives you an opportunity to find bets with the point spread that allow you to end up with two wins or return part of your bet in case of a loss. Read more about it here: Betting the Middle.
Where Can You Use Arbitrage Apart from Sports?
By the way, it's not all about football. There are also arb finders designed for cybersports

and even cryptocurrencies…
Cryptocurrency Arb Finder
How does this work? You may be surprised but cryptocurrency rates are not the same at different exchanges.
Bitcoin exchange rates at 18:53
This happens because demand for bitcoin may vary at different exchanges.
When some serious trader, say, in Australia, buys lots of bitcoins, and therefore makes the demand for bitcoin go up, for some other part of the world, it may take a while to react to this. The same applies to a reverse situation when some big market player decides to get rid of their bitcoins for the sake of some other cryptocurrency.
The difference in the rates may amount to hundreds of dollars.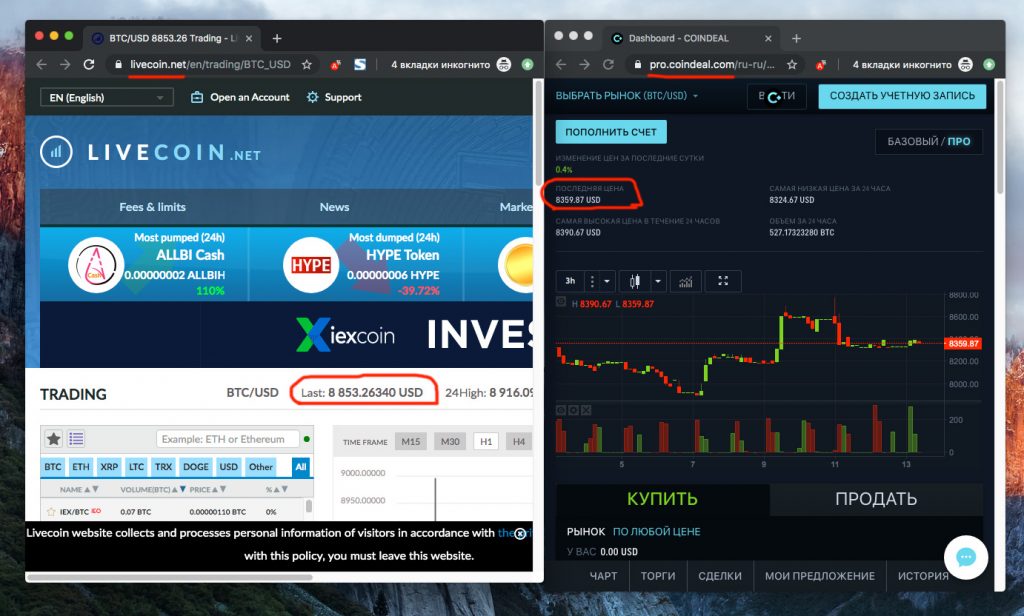 Considering the above, it seems logical to buy bitcoin at one exchange and sell it at another.
Of course, you should take into account the commission for the transfer, the difference between buy and sell prices, and, possibly, some other nuances. If someone has already tried this scheme, please share your experience in the comments below.
Can you Develop Your Own Arbitrage Finder?
An arb finder is essentially a parser of bookmakers. In fact, all you need to do is write a script that will parse bookies and compare odds. Simple as that! And you won't have to pay anyone.
You can even see projects like this at freelance marketplaces — to develop arbitrage software in PHP.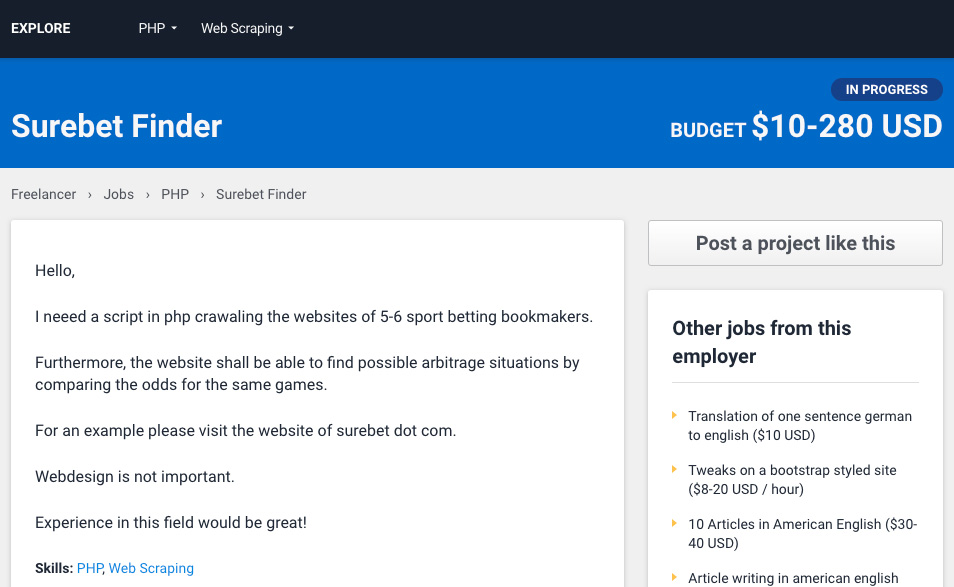 Unfortunately the previous paragraph is rather sarcasm. But If you decide to develop arb software, keep in mind that:
Not all bookmakers provide APIs to access their databases which means they will block you for making frequent requests to their websites. Besides, you'll have to tweak your software every time bookies make changes to their sites.
Your script will have to store a lot of information about various markets and bookmakers.
Your software must have enough hardware performance to be able to compare all the odds at the right time.
You will also have to take into account the rules of calculating betting rates that are different for every bookmaker. For instance, one bookmaker may include 90 minutes in the bet, while, for another, it will be 90+ extra time.
Obviously, the arb software must be fast and efficient and parse the odds kind of simultaneously, so that the first bookmaker from the list would not change their odds while you scan the last one.
And these are only the first issues that pop into mind. What I want to say here is that it is possible to develop arbing software on your own. But this obviously requires years of hard work, advanced programming skills, configuring the server environment, etc.
Automated Arbitrage Software
Let's assume you chose to pay for a subscription. In this case, you may be tempted to go with an automated arb finder. Since finding arbs is apparently a routine job, there has to be automated software out there. Let it find and make all the necessary bets for you while all you will have to do is get your money at the end of the month.
Unfortunately, this will not be the case. Due to the complexity of the task performed by arb finders (described above) nobody has yet managed to develop completely error-free software.
In my opinion, every placed arb requires manual attention and doublechecking if you don't want to drain your bankroll in no time. If someone offers you automated arbitrage betting software, chances are, you are dealing with frauds.
I should also add that many automated arbing services don't imply placing the necessary bets for you on an automated basis. Instead, you are only getting the possibility to go to the required page of a bookmaker's website (the page with a particular bet) in one click.
Android Mobile Apps
Okay, but how about arbitrage mobile apps? Can you download an arb finder to your Android phone and place arbs while on the go?
I doubt that you will ever come across a mobile arbitrage app.
For one thing, you surely can't expect your phone to perform all the arbitrage operations — an app like this can only be offered by frauds.
Why? Go back a few paragraphs and read about developing an arbitrage finder on your own and all the ins and outs associated with it. And now imagine all these complicated activities taking place on your phone. I suppose, comment is needless.
If we talk about a mobile client that only reflects data from arbitrage services on the phone screen, none of top arb finders currently offer an Android version of their software.
And this definitely makes sense — just imagine the amount of analytical information arb finders provide and try to squeeze all this info into the phone small screen. And don't forget the calculator and the possibility to keep a few bookmaker websites open.
But what about IOS? Are there arbitrage apps for iPhone?
Here I would like to touch upon one important issue that applies to both AppStore and PlayMarket. By law, gambling (which includes sports betting) is restricted in many countries, which, no doubt, may prevent arbitrage apps from being approved by Appstore and Playmarket.
Update: Some scanners (arbing software) are not represented in the chart, that's why we display here the table containing all online arbitrage software and programs examples.
| | | |
| --- | --- | --- |
| A-Bets | Bettinghive | PositiveBet |
| ArbAlarm | BMBets | RebelBetting |
| Arbedia | Breaking-Bet | Scan-Sport |
| Arbets | DevilBet | SearchForks |
| ArbExpert | GotoBets | Sports Punter |
| ArbHunters | InfoBet | SureBet |
| ArbitragePro | Juice Trading | SurebetMonitor |
| ArbSeek | Mathbet | SureBetPro |
| ArbWinner | Mysurebets | Tip-Ex |
| BestSurebet | Nickel Vacuum | TX Odds |
| BetBrain | OddsAndBets | UCantLose |
| BetBurger (AllBestBets) | OddsChecker | Vprognoze |
| BetonValue | OddsExchange | WettPortal |
| BetPlatform | OddsMonkey | WinRiskFree |
| BetRinger (BetLinker) | OddsPortal | 3Bet |
| BetRiskFree | OddsPredator | Poisk-vilok |
| BetSpan | OddStorm | |