Launched in 2016, the new Breaking-Bet arbitrage software was initially offered as a beta and therefore was completely free of charge. Since June 2018, the service has become paid.
Quality Testing
Independent quality testing of Breaking Bet arbs by NapalmBet.com:
 Matching Arbs: 5 out of 5.
Basic Characteristics
Year of foundation: 2016
Features: Prematch, Live
Language: 6 english, russian, german, spanish, italian, french
Bookies: 38 1XBet, Bet365, Bet9ja, BetAtHome, Betcity, Betclic, Betdaq, Betfair Ex, Betfair SB, Betfred, Betsafe, Bookmaker, Bwin, Favbet, Fonbet, Intertops, Ladbrokes, Leonbets, LigaStavok, Loving Bet, Marathonbet, Matchbook, Merrybet, NaijaBet, NairaBet, Olimp, Paddypower, Parimatch, Pinnacle, Sbobet, Smarkets, Titanbet, Unibet, Vbet, Williamhill, Winline, Winners Goldenbet, Zenit
Sports: 9 football, hockey, handball, volleyball, basketball, tennis, baseball, boxing, MMA
How to Use the Interface
Let us see how to use the software's interface.
When you first open the website, you will see a window displaying key figures for the moment: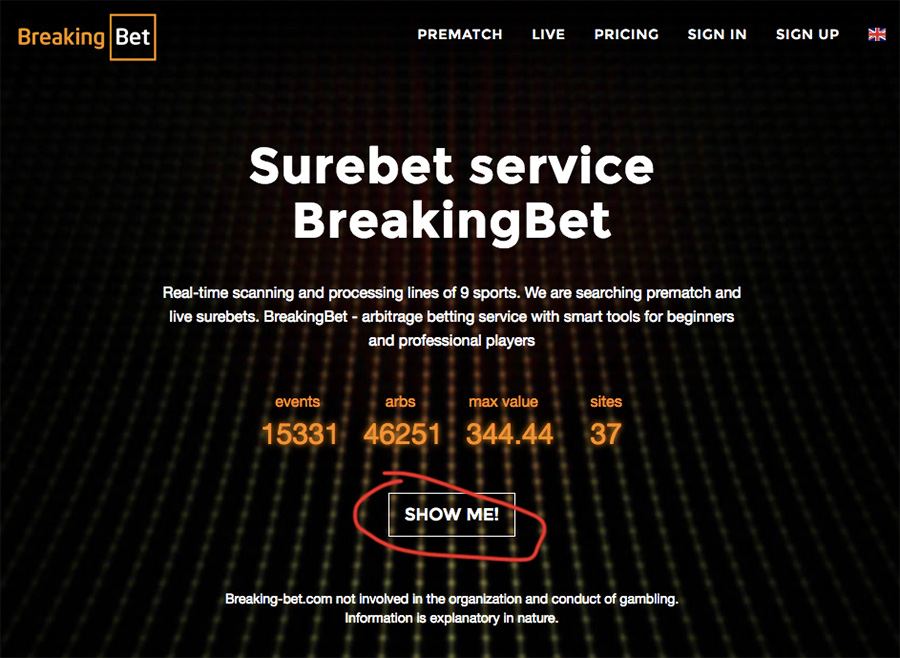 Press SHOW ME to see all the found arbs. You will not be able to see the outcomes and odds though — these will become visible only after you pay for the service.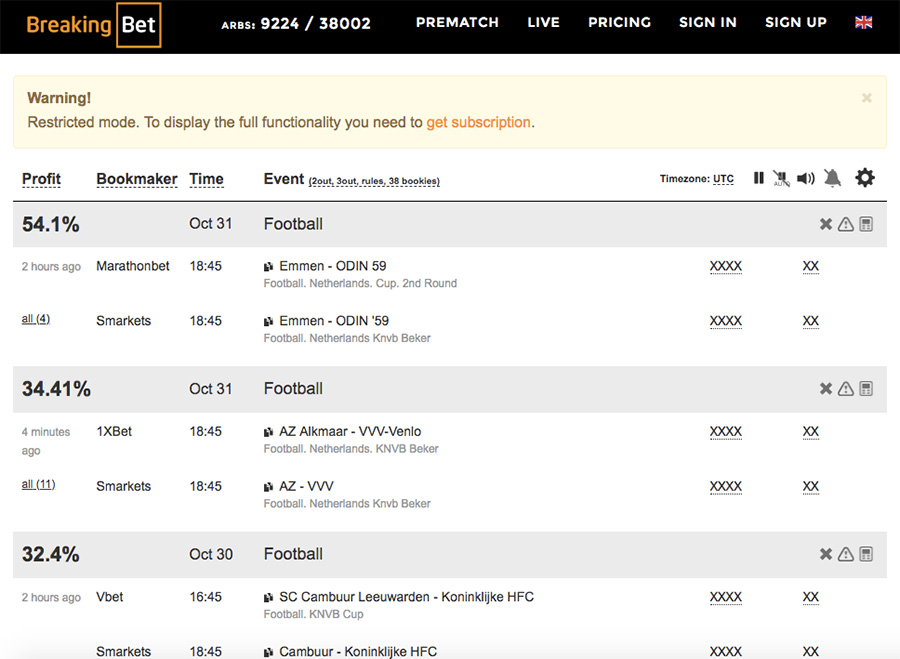 To filter the arbs, tap on the gear-wheel icon in the right upper corner.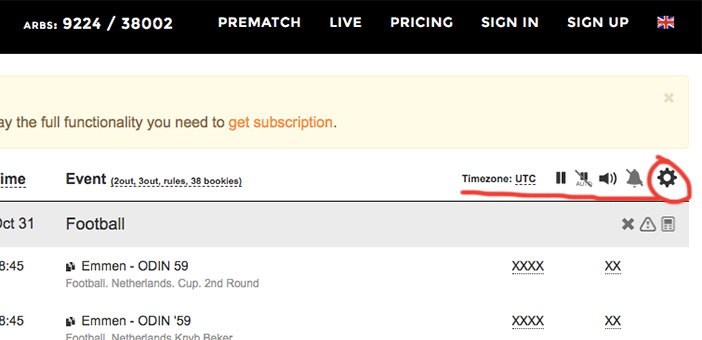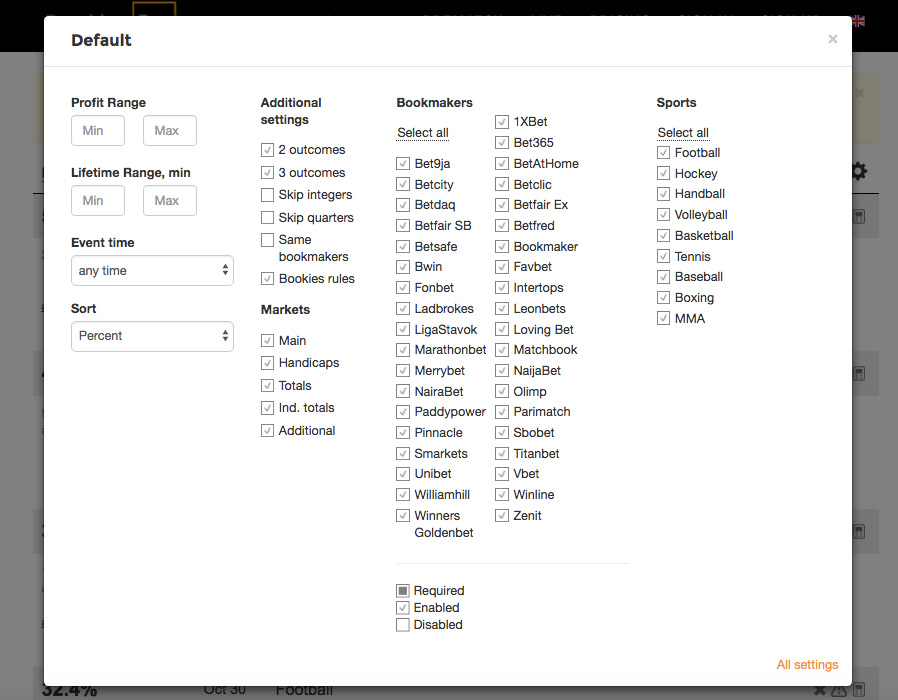 Apart from filters, there are other features available (you can see what they offer in the corresponding popup windows). For example, you can switch off the annoying gurgling sound that notifies about the appearance of a new arb. To be fair though, when you use filters, notifications and their sounds prove to be very helpful.
The app also includes a handy calculator that allows to quickly calculate bet amounts.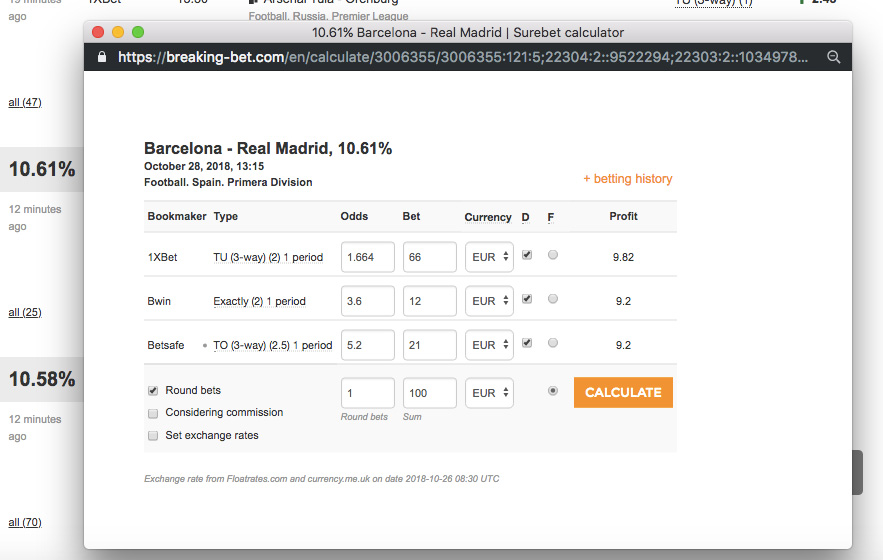 Subscription Plans
Despite being able to find quite good  arbs (according to the test), the software is one of the cheapest offers on the market. A weekly subscription will cost you 4.5 dollars, and you can use the app for a whole month for 12.99 dollars.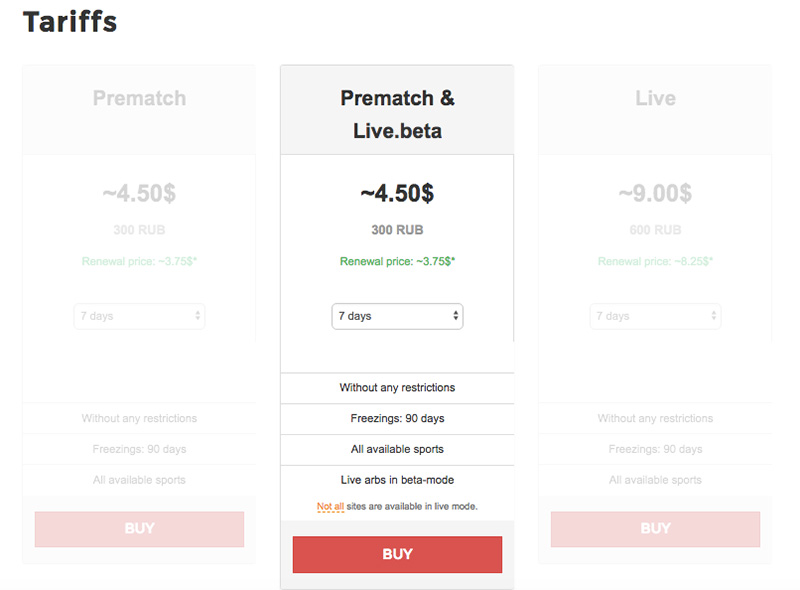 You can pay for the service via: MasterCard, Visa, Maestro, Mir, Google Pay, Qiwi, RBK Money, Payonline, Onpay.
Pros and Cons
Pros:
Cheap subscription plans (compared to those of competitors)
Quality arbs (random testing showed that the found arbs completely matched those of bookmakers')
Responsive support staff
Cons:
The software does not search for "middles" or value bets
No free arbs are displayed
Feedback
If you look at the reviews on Breaking-Bet, you will see that they have grown more loyal over time. If, at the time when the service was free, negative feedback prevailed,

"The service looks pretty raw to me. There are issues with updates and other minor things. Well, it does work somehow, but I prefer to wait for the final release rather than use this clumsy beta. As for now, their bugs are not only confusing but also threaten to quickly drain my bankroll."
now the reviews are mostly positive.

"BTW, the service works great! A very good offer, and it is priced the same as 3Bet, if you don't buy the pro account and use the discounts."
You can share your opinion on Breaking-Bet in the comments section.